You can find your treatments on the care plan page. From there you can start one or continue from where you left off. While working on a treatment you can choose a video therapist, consult library items and send a message to your professional.
Care plan
When you click on Care Plan in the menu you will see an overview of all of your care plans. To start a treatment you click on Start under the name of the treatment. When you have worked on a treatment before you will see a green bar showing your progress. Click on Continue to go to the step in the treatment where you had left off.

Viewing the content
When you have selected a treatment you will see an overview of important information about it. If you want to see the content of a certain treatment you can click on Content. You can expand the sessions one by one by clicking on the arrows or all at once by clicking on Expand all. When you click on a step ('Welcome' for example') the videos and exercises will appear.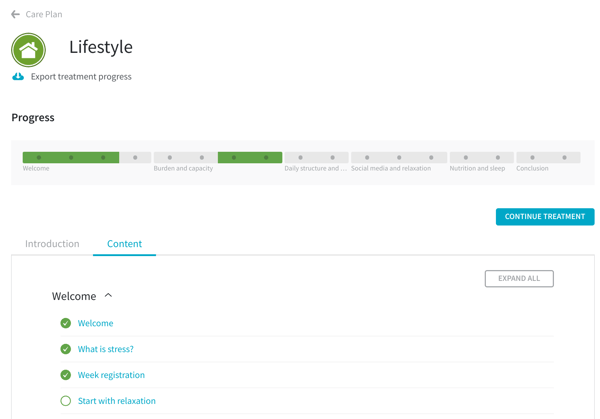 Progress
You can see your progress and navigate between the different steps from within the treatment by clicking on 'Content'. It will show you which steps you have already completed and from here you can also navigate to the step in the treatment where you had left off.
Here you can also invite someone for the social environment, if your treatment has one, or invite an extra professional.

Working on a treatment
While working on a treatment you can now switch between video therapists by clicking on their pictures underneath every video. A blue circle will appear around the picture of the video therapist you have selected.
If you prefer to read instead of listen then you can find the text by clicking on 'Text' underneath the video.
On the right-hand side of the page you can find the Library items, if this step of the treatment has library items.

Menu
When you are working on a certain step in a treatment and you want to return to a different step you can do this by clicking on the text in the menu displayed on the right side of the page. The step you are currently working on is shown in a bold lettertype. Steps you have already completed will have a green checkmark.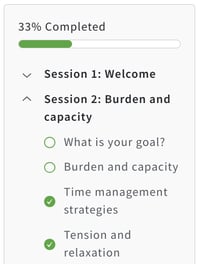 In this way you can work through the entire treatment and reread things at a later time. When you have questions about the treatment you can send them to your professional directly from the steps.
User Guides for Clients
Would you like more information about working with our platform? Check out our other user guides here: User Guides for Clients
Can't find the answer to your question?
Click on the blue Support button to contact us or send us an email via info@therapieland.nl of info@gezondeboel.nl
You can also reach us by phone, from Monday to Friday between 9.00 and 17.00h via 020-7712848 for Therapieland or via 020-8545108 for Gezondeboel.